MOKSHA: FINDING FREEDOM | A 7 DAY YOGA RETREAT
with STEFFY WHITE + LUCY HILL
From £1250
The Sanskrit word `mokSha' is derived from the root verb `mokSh' which means: to wish to free one's self. The concept of moksha is linked to self-acceptance and the consciousness of oneness with all existence.
Moksha state means freedom, peace and bliss.
During our week long retreat, we will work with beautiful yogic practices and activities to support your expansion and elevation. By first inviting the exploration of limiting belief systems and in turn guiding you to move out of these programs; towards your best, happiest and most free life.
We can't wait to share our incredible Indian home, one of Goa's most exclusive properties, 'Kaju Varo' with our Chaya yogis. Alongside the epic pool-side yoga with Steffy, expect delicious, healthy menus, award-winning, luxurious and peaceful accommodation, deeply healing therapies, inspiring workshops and a whole lot of R&R. This all-inclusive retreat is quite literally, a game-changer.
And, if you're new to solo travelling - how absolutely great! Using our 12 years of Indian travel experience, we at Chaya dearly love to look after our guests. We can help with all your travel needs and will do our best to ensure you have a most relaxing, joyful and magical time.
You just need to book your flight and let us take care of everything else.
YOGA | STEFFY WHITE
We're so happy and excited to collaborate with Steffy again in India. Steffy White's teaching is beautifully balanced and she carries a depth of yogic knowledge and trainings of a variety of practices. She'll lead twice daily yoga asana sessions, with a dynamic flow focus in the morning and yin in the evening. Her nurturing yet challenging heart centred practice is always delivered with a smile. Alongside the physical practice, guests can experience breath work (pranayama) and guided meditations. Our practices will connect you on every level, to all parts of yourself, with the intention to gently bring awareness to aspects of ourselves which limit our truth and full potential. And in turn release these, shifting you to new levels of freedom and joy.
THE PRACTICE
Our intention on this retreat is to help you explore the liberation that comes with listening deeply. Harnessing the ability to be both the speaker and listener helps us bridge the gaps in our unconscious thoughts so that we may begin to see the layers beneath the conscious mind.
Through asana (physical practice), movement, meditation, and pranayama (breathing exercises), our twice daily sessions will begin with making space to allow for deeper listening... Gently airing out cluttered minds and bodies in order to allow release of what isn't serving you and make way for you to hear your highest wisdom.
IS THIS RETREAT FOR YOU
YES! Our retreats are suitable for everybody - we welcome all ages and all levels of yogic experience. If you would like to discuss any area of your wellbeing or practice that you are specifically working with, or have any questions about the retreat, please do drop us a line, we're very happy to chat through ideas or concerns.
LOCATION | KAJU VARO
Set amongst cashew and mango groves and only minutes from the magnificent Ashwem beach, is one of Goa's most luxurious eco retreats; Kaju Varo. Winning Conde Naste Traveler's award for best luxury boutique stay in Goa, this is a truly awe-inspiring home for Chaya. Each individually designed eco-lux villa demonstrates contemporary elegance and minimalist design, creating a perfectly private, serene and peaceful environment for our guests to unwind. The team, our dear friends at Kaju Varo, truly are amazing and will look after your every need.
TREATMENTS & THERAPIES
We are incredibly blessed in Goa to work with an outstanding selection of personally curated healers, therapists and practitioners across a broad spectrum of treatments. Covering the following areas: All massage disciplines, (examples include holistic, aromatherapy, Swedish, intuitive, deep tissue, sports and remedial, stomach and internal) Reflexology, Breathwork, Kinesiology, Ayurveda, voice coaching, Reiki and energy work, plus many more.
Included in the retreat will be a 1 hour treatment of choice with one of our resident therapists.
WELLBEING FOOD + WORKSHOP
Chaya's Lucy Hill will be bringing her knowledge and understanding of wellbeing food to the retreat; ensuring a completely balanced and nourishing, not to mention tasty menu. The food will refer to the pillars of a therapeutic diet to best support you during retreat. With daily juices and homemade plant-based mylks, two nourishing and delicious alkaline-focussed unlimited meals per day, free-flowing coconuts, fresh fruits and herbal teas; all designed to leave you feeling clearer, lighter and brighter on every level.
Lucy will host a 2 hour workshop, covering wellbeing topics such as nut and seed milks, raw chocolate alongside other healthy and delicious ways to upgrade the way you eat - and the way you feel.
FOOD + MENUS
Food is a really big deal to us at Chaya. It's such a joy to share our passion for incredibly good food - good on all levels - with our guests. And India is no exception. The wonderful chefs at Kaju Varo work alongside Chaya Kitchen and are adept in catering to every desire; using local, seasonal ingredients to create a delicious, varied and healing menu. Which will balance and clear the body whilst stimulating the palate. From typical Goan feasts, to the freshest local seafood through to pure raw vegan, the award-winning kitchen can accommodate all tastes and dietary requirements.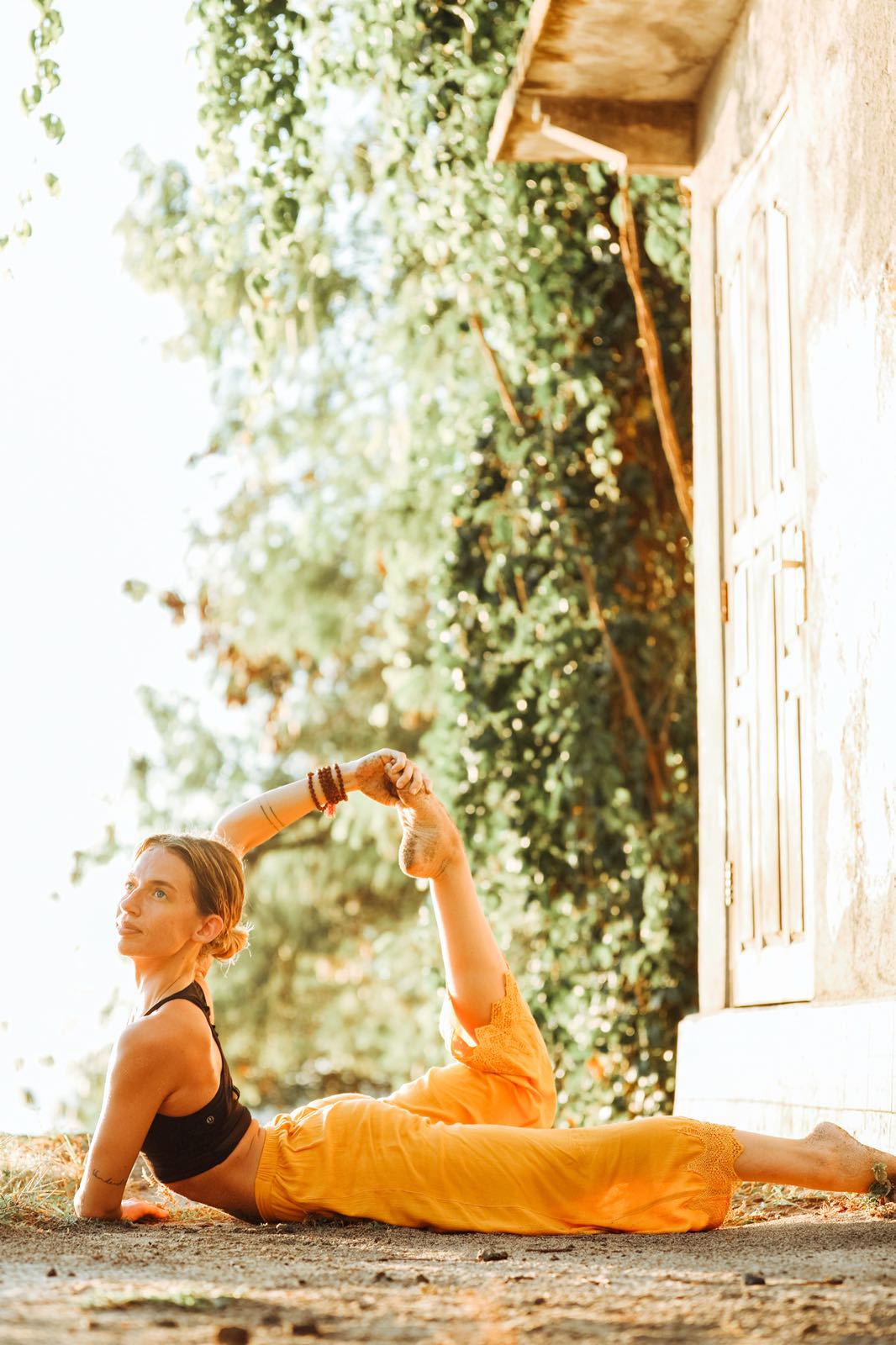 VOICE WORKSHOP | ANDREA FINKE
We often hold stuck emotions, tension and all sorts of other restrictive energy in our throat area, which in turn can deeply effect the way in which we communicate. The practice of becoming familiar with our own sound, in a held, nurturing and not to mention fun space, is a deeply empowering experience. Andrea is a highly trained opera singer and experienced voice coach. And she truly believes everyone can sing! Her beautifully encouraging, nurturing and enthusiastic teaching style can help even the shiest of voices come out for a little air time! Absolutely no prior experience is needed to partake (nor is the workshop obligatory) but we can guarantee you'll have a joyful experience.
Andrea will lead a two hour group workshop during retreat, helping you to reveal and re-connect to your own unique voice, through breath work, movement and mantra. Guests will also have the opportunity to work on a 1-2-1 basis with Andrea.
TYPICAL DAILY RETREAT SCHEDULE
07:30 - 08:00 Herbal teas, coconut water
08:00 - 09:30 Dynamic flow vinyasa class + meditation (2hrs)
10:00 - 11:00 Buffet brunch
11:00 - 16:00 Treatments, free time
16:00 - 18:30 Journalling and Yin
19:00 - 20:30 Dinner
20:45 - 21:30 Yoga Nidra or Guided Meditation (1 per week)
To note, we take off the middle day from evening group practice, as it's important for rest and for assimilation and reflection. No dinner is served on this day - guests can dine out at any of the beautiful, inexpensive local Goan and international restaurants.
We at Chaya dearly love to share our many years of Indian travel and Goan love with our guests, which we hope makes for a very unique experience. If you have any questions at all about India, Goa, travelling solo, safety, what to expect, where to go afterwards or before... Just drop us a line or give us a call.
OTHER THINGS TO DO
For those that want to get out and about - there are so many fun and inspiring things to do in Goa, with lots of lovely beaches and natural local sights; you can easily hire a moped or a driver for the day and explore. Or maybe take a trip to the local market town and soak up the crazy sights and sounds of a real Indian hub. We love to visit the magical perfumer Ramakrishna and receive a blessed personalised scent. There's also the famed, lively night market for the shoppers, one of many shopping opportunities! So many beautiful restaurants for the foodies. And those who need more action, there's great water sports nearby. Come and chant in the local temples with us, buy crystals from our resident crystal expert. And on the therapies and treatments front - there are SO many amazing healers, therapists and body workers! Let Chaya be your local guide and we'll tailor your experience exactly to your needs and desires.
INCLUDED IN THE RETREAT
Inbound private airport transfer

2 x daily yoga and meditation classes 1 x Yoga Nidra / guided meditations

Full board, 2 x multi-course gourmet meals, plus unlimited teas, coconuts, fresh fruit and mineral water

1 x 1 hr treatment of choice with Chaya in-house practitioners

Wellbeing food workshop with Lucy Hill

Clearing and manifestation rituals, sharing circles

Ecstatic dance evening

Voice freedom and mantra workshop with Andrea Finke
NOT INCLUDED IN THE RETREAT
Flights and onward transfer
COST PER PERSON
Option 1) £1250 3 person sharing suite

Option 2) £1350 2 sharing suite

Option 3) £1550 1 solo room with double bed, sharing bathroom with one other

Option 4) £1950 solo suite, entirely private large suite with ensuite bathroom
PAYMENT PLANS
We are always open to discussing ways to make our retreats accessible to everyone - please do be in contact if you would like to discuss how we can make it work for you.
To book a place on this retreat or for any further details, please contact us via the link below or email: info@chayayogaretreats.com or call Lucy: 0044 7866 368798.